In September 1969, in a little house situated behind Het Vliet in Leeuwarden, a few guys named Jollie, Robbie and Tom started a hobby repair place for motorcycles.
The little house was situated in a small courtyard called Pietersburen, and in 1971 the official club name of MC PB (Motorcycle Club Pietersburen) was established.
In a short period of time, a lot of enthusiastic motorcycle riders joined MC PB. In 1974 the decision was made to enlarge the clubhouse and another house was added to the original.
These two houses were demolished in 1976, so MC PB had to find another clubhouse location. Luckily they found a building (an old cheese warehouse from the 17th century), situated on the Hoveniersstraat 3-5 in Leeuwarden.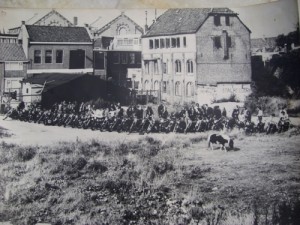 In this period the club expanded to 73 members (including 24 women; which is very exceptional for a motorcycle club).
In the seventies, MC PB visited a lot of other motorcycle clubs in The Netherlands, England, Germany and Sweden. In this period the logo of MC PB was also designed, with an image of the original clubhouse part of it.
In 1987 the public authorities notified MC PB that the clubhouse did not fit any longer with the development plan of the area for the city.
The public authorities wanted to redevelop that area of Leeuwarden with houses and offices, and a motorcycle club wouldn't fit in!
After a juridical struggle of two years, the public authorities finally allocated MC PB a building site to replace it, located on the Groningerstraatweg in Leeuwarden, opposite an old tollhouse.
In June 1989 the members of MC PB began building their own new clubhouse there.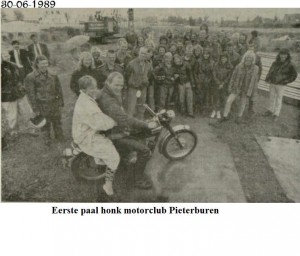 The most important fundamental principle of MC PB has always been to have a large (repair) workshop with work-benches, tools etc., so that every member could build and repair their own motorcycle.
Besides the workshop, the clubhouse has a bar. Upstairs are sleeping rooms for members and visitors, complete with toilet and shower.
In November 1989 the new location at the Groningerstraatweg was officially opened and we are still very proud to have had our own clubhouse there to this day!
In 2021 celebrated MC PB their 50th anniversary, which makes MC PB the oldest motorcycle club in The Netherlands.
If you are interested in visiting us, you are welcome to drop by for a cup of coffee or a nice cold beer!
From Wednesday evening until Sunday evening, you will always find some members hanging out at the clubhouse.
Address: MC PB Friesland
Groningerstraatweg 356
8924 JH Leeuwarden
Holland
003158 -2674543